AMAX, FMCI, and NVIDIA are excited to invite you to our AI CONNECT event.
AI CONNECT will provide an opportunity to learn about the latest developments and applications of AI, and connect with industry experts and other professionals interested in AI.
The event will feature:
keynote presentations and panel discussions from leading AI practitioners
demonstrations from companies that incorporated artificial intelligence into their operations
workshops and masterclasses
expo area with start-ups, support organisations, technology providers, and academia
networking opportunities
chance to learn about the latest AI tools and platforms from NVIDIA experts
We hope you will join us for this exciting event and become part of the conversation on the future of AI.
Lunch and refreshments will be provided by Hook & Ladder Catering.
Please email us at [email protected] if you have any queries.
We look forward to seeing you there!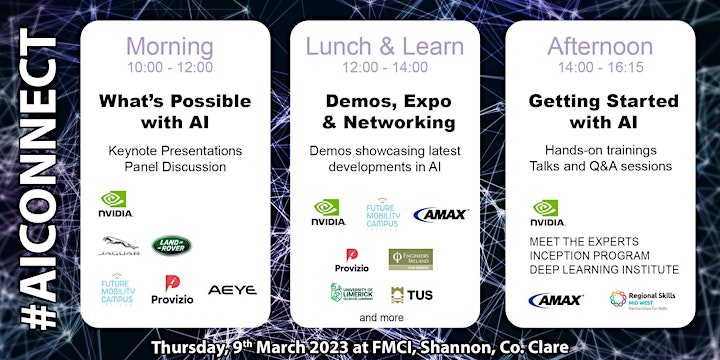 Morning: See What's Possible with AI
Keynote presentations from NVIDIA DriveWorks expert Felix Friedmann and Jaguar Land Rover representative will showcase what is possible with AI while using fascinating examples from the automotive industry.
Discussion panel of leading experts from NVIDIA, Jaguar Land Rover, AEye, and Provizio, to name a few, will discuss how AI has accelerated and made the innovation possible, as well as what ecosystem is required for AI projects to be successful.
By showcasing how AI is changing the automotive industry with the aim to inspire you to think about how AI can be used in your industry – fintech, healthcare, construction, research, health & safety, telecommunications, education, air and land transport, government or local authorities… the list is endless.
Lunch & Learn: Demos, Expo & Networking
A 2-hour lunch break with delicious grab&go food will give you an opportunity to see the impressive demos showcasing the latest developments in AI and meet the experts, AI practitioners and support organisations that can help to kick-start your AI project.
Confirmed demos:
NVIDIA DGX A100 System – Purpose-built for the unique demands of AI
"AI for Edge" by Ekaterina Sirazitdinova, NVIDIA Senior Data Scientist
FMCI Digital Twin – Augmented Reality by TCS
Stable Diffusion – text-to-image diffusion model capable of generating photo-realistic images given any text input
NVIDIA Maxine – Real-Time Video Communication with AI
ChatGPT from OpenAI
Provizio – AI in road accidents prevention
NVIDIA DRIVE kit mounted on FMCI vehicle
Technological University of the Shannon (TUS) – Video super-resolution
Confirmed expos:
NVIDIA – Inception Program, Sales, Marketing, and Automotive experts
FMCI – Ireland's first testbed for Future Mobility
AMAX® – Advanced IT Infrastructure Partners
AEye – 4Sight™ Intelligent Sensing Platform
University of Limerick – Artificial Intelligence & Machine Learning MSc Programme
More demos and expos TBC.
Afternoon: Getting Started with AI
Afternoon block will feature hands-on trainings, talks and Q&A sessions in parallel Technical and Business streams, giving practical and tangible advice on how to get started.
Technical stream:
Introduction to Graph Neural Networks training from NVIDIA Deep Learning Institute with support of Ekaterina Sirazitdinova, NVIDIA Senior Data Scientist
Talk and Q&A session with Felix Friedmann, NVIDIA DriveWorks Product Manager & DRIVE EMEA Developer Relations
Business stream:
Ecosystem enabling AI development talk and Q&A session with Niall Smith, AMAX EMEA General Manager
Skills for AI Projects talk and Q&A session, speakers TBC
Funding and scale-up opportunities for AI innovations talk and Q&A session, speakers TBC
About Organisers
NVIDIA pioneered accelerated computing to tackle challenges no one else can solve. NVIDIA are unquestionable leaders in the AI market, while providing complete ecosystems for AI projects. Their work in AI and the metaverse is profoundly impacting society and transforming the world's largest industries—from gaming to robotics, self-driving cars to life-saving healthcare, climate change to virtual worlds where we can all connect and create. NVIDIA provide a complete ecosystem for AI projects.
AMAX is a designer and provider of advanced IT infrastructure, specialising in "high-touch, high-value" solutions. AMAX works with world leading technology vendors, applying its own electrical, mechanical, and thermal design customizations to meet each unique requirement. Their quality-first approach at each step of the way from concept to scaling is highly regarded by customers in many industries including, but not limited to AI/ML/DL (Artificial Intelligence/Machine Learning/Deep Learning), HPC (High Performance Computing), semiconductor, healthcare, security, data handling, and telco/5G/edge.
Future Mobility Campus Ireland (FMCI) is the first complete development centre and full-scale testbed in Ireland, based in the Shannon Freezone and operating across Europe. The facility focuses on comprehensive mobility technologies that span both ground (i.e. autonomous driving or smart cities) and air uses. The facility is supporting a range of parties, from individual researchers to multi-national corporations, to start-ups and Government entities, to conceive, develop, trial, and deploy societally-transformative transport solutions in Shannon and across Ireland.